Earl R. Smith II, PhD
DrSmith@Dr-Smith.com
Dr-Smith.com
Change is the one unavoidable aspect of living. Time and our lot as humans see to that. A good way to see personal growth is as the process of responding positively to that change. We all know that the idea of change can be unsettling. Many people see it as stepping from the known to the unknown. However, the only way that you can see it this way is to ignore that change is an unavoidable part of your every day and the only real hope that you will live to find a life better and more fulfilling than the one you are currently living. But there is a deeper reason why it is important to embrace the process of change. You are changing all the time. The world around you is changing all the time. Change is constant and it doesn't stop to ask your permission.
Therefore, the question is not whether or not you will change but how big are the steps you are ready to allow yourself to take. Your personal growth depends on this very decision. Some people restrict themselves by allowing only very small steps while others reach the same result by insisting on very large ones. The issue is one of finding the correct balance – your comfortable stride, so to speak – and to begin to lengthen it gradually.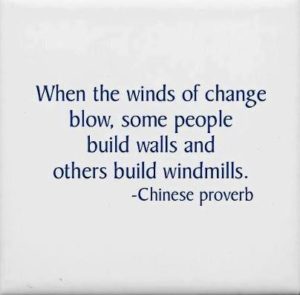 Stress over change comes from two sources. The first is the process of change itself – you have to pay attention to what is becoming the new 'reality'. The second is the apprehension that you bring to the process when you contemplate changes at your upper level of tolerance. Your ability to come to terms with change and grow will depend on how comfortable you can become with the first apprehension and how much you can reduce the second.
It is a truism that there will be no growth without effort. Change and the challenges that it brings is the common denominator. Your approach to change and ability to achieve the correct balance will define your life as much as any other factor – and much more than most. Turning the reality of change into meaning in your life is the important process – the way forward. Sorrows and your grief are nothing compared to mastering this process – in fact, they are lessened as you master it. Misfortune is part of living but your contribution to your own misfortune will abate as you master it. Good or bad fortune will come your way. Change will constantly remind you that you are alive. In order to find the meaning in your life and transform it into something of value, you must embrace the process – embrace each breath – and see each breath just as each day as the change that lets you know you are still among the living.
It is also true that there will be no growth with effort – if that effort is focused on preventing change. That's the truly perverse thing about the human condition – you only option in the exercise of free will is to keep yourself from living – or even knowing – the life you were meant to live. You can struggle against change, yell at the darkness that is resulting, howl at the moon but all of that will not keep things from changing. It won't keep you from growing older but it will allow you the indignity of missing the opportunities to live the life you were made to live. In order to live that life, you need to let it happen – let it flower. Each breath needs to be an affirmation of the simple fact that you are not in control – only a passenger on the bus of life writ large. But that is OK because you are unique – your song will never be sung by another. Your light is of a particular shade previously – and forever – unknown.
Much of my mentoring work is focused on helping people deal with – accept the inevitability of – change. Most have lived lives based on the simple assumption that they are in control – they choose. But, when we focus down on the reality, most of their control has been limiting – restraining. For those who make the journey with me, there is always that time when the brakes are released and the friction caused by faux control goes away. And that is an experience worth working towards!
Life is change – embrace it with gusto!!
© Earl R. Smith II, PhD