Dr. Earl R. Smith II
DrSmith@Dr-Smith.com
Dr-Smith.com
This series of articles will focus on 'eureka moments'. Over the years I have had many. Most came with the help of mentors and coaches. Building teams and businesses can present many opportunities to stub your toe and learn great lessons from the experience. You can learn how important it is to fail on the way to success.
In high school a basketball coach once told me "if you are not getting called for fouls, you are not really playing the game." After I realized that he was not telling me to go out and commit fouls, I began to understand what he meant. If you are not engaged in the game you will be engaged in not transgressing. And not transgressing doesn't score points.
A high school philosophy teacher that I talked to about it said, "keep your eye on the ball, your shoulder to the wheel, your ear to the ground, your nose to the grindstone - then try to get anything done in that posture." I began to get the message.
Eureka moments come when you lose yourself in the game and suddenly realize for the very first time that you understand something important. They don't come at your bidding but when you have prepared the way and then let them come to you. One of my most important mentors put it this way. "Stop staring at the problem. Look at it out of the side of your eye. Ignore it for a while. Come back to it at odd times. Let it come to you." I remember that as a eureka moment. The sun came up on a new day.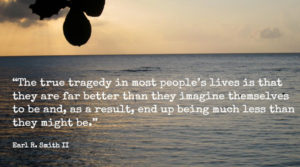 Most coaching involves a gradual, building approach to a seminal moment. You work, you toil, you focus, you sweat, you ache, you fret, you wonder, you wait. Too many people who bill themselves as coaches try to skip over the first and get right to the latter. I call this the 'fret free diet scam'. "You don't have to do anything. Just buy my dingus and, tomorrow morning, you will wake up thin." It is amazing how many people actually buy this kind of logic. My suspicion is that there are a number of reasons why. Here are just a few. There are many more.
Conditioning: People have gotten conditioned to seek simple solutions to complex problems. They hope to avoid the details and get right to the solution. It is like reading the cover and then the last chapter in a detective novel. They miss the seminal point. It's not who did it that matters, its the characters that you meet along the way.
Arrival Not the Journey: A variation of conditioning is a strong preference for arriving rather than traveling. This is the 'are we there yet' syndrome. Impatience with traveling when you could be arriving keeps you from experiencing the journey that life is.
Going it Alone:Although the strong silent types of the 1950 gave way to other approaches to life, the echos of what I call the 'lone ranger syndrome' are still strongly present in business circles. Entrepreneurs are particularly susceptible to this syndrome. The result most often is that, when they cannot any longer avoid the conclusion that they need help, the solutions they choose are the quickest and most anti-humanist.
A Sense of Shame: I have worked with clients who believed to their core that they were inadequate because they couldn't overcome all the challenges that life brought them. Humans are social animals. The strength of the species is our ability to cooperate and collaborate. Why run your race without these advantages? You are worthy of them.
I Want it to be Easy: People with heavily scheduled lives find it difficult to take on something that will absorb significant chunks of their time and attention. Those selling the 'easy way out' often find willing converts because of this. Their life is full enough without having to focus on the hard work of changing behaviors and unlocking potential. As a friend likes to put it, "they are too busy driving to take the time to stop for gas."
The first eureka moment in any mentoring engagement comes when the person begins to understand the behaviors that have kept them from moving towards their sought after eureka moments. I can affirm this from my own experience. Many of my new clients have had a series of coaches who fed off of one or more of the patterns listed above. They have become increasingly frustrated by the lack of progress. One said to me, "I have spent so much money on coaches. Where is the ROI? What have I really gotten out of it?" I replied, "If you buy a car without an engine because it gets such great mileage, why are you shocked that it isn't taking you anywhere?"
We insist in making life complicated and complicated lives are excruciatingly so. Great mentoring begins with that understanding and builds towards breakthroughs. Building means paying attention to the foundations of understandings. Building means preparing for the arrival of eureka moments. Building means recognizing that life is part planning and part that is beyond your control. To paraphrase - if you build it, they will come - when they decide to.
© Dr Earl R Smith II
I look back on the first three months of my work with Dr. Smith with wonder. My journal reflects a journey of self-discovery so vast that I hardly recognize the person who wrote the first entries. It's been a year now and I am happier now than I have ever been.
PJ, Mentoring Client
,
"It's the most amazing experience I have ever had. I needed to find a new path. A friend recommended Dr. Smith. What was most amazing was the wisdom and perception that he brought. New vistas have opened up and, as a result, a new chapter in my life. There's no way that I could put a value on what he has contributed to my life."
Mentoring Client, CEO and Serial Entrepreneur
,
"Chief - that's how Dr.Smith was introduced to me and, based on our work together, I have come to understand why - helped me focus on the possibilities that I had been missing in my life. He guided through developing a new vision for my life. My life is richer because of working with him."
Mentoring Client
,
"Earl is a wise mentor with lots of experience. He has a great way of explaining things and getting you to look at them from another perspective. Dr. Smith is a tough mentor, but, if you can learn just some of what he knows, your life will change forever."
Mentoring Client, Deloitte
,
"Dr. Smith is a very different kind of mentor. If you're looking for a warm and fuzzy adviser, this is the wrong guy for you. But if you are dedicated to change and want to be challenged by a very experienced mentor Earl may be just what you are looking for."
CEO of Croix Connect and Host of ABC Radio's 'Taking Care of Business'
,
"Dr. Smith's mentorship has been of great value and inspiration to my personal and professional development. I felt the need to take a new direction. He helped me sort out the possibilities and showed me ones that I never considered. Working with him has been a truly life-changing experience."
Partner, IT & Telecom, Defense Solutions
,