Earl R. Smith II, PhD
DrSmith@Dr-Smith.com
Dr-Smith.com
The practice of Zen brings a challenge to the literate. The farther one moves along the path from 'right now right here' to 'right now right here' the more language comes to be desperately inadequate. The difference between experience and verbal description widens until the chasm can no longer be spanned.
Towards the end of such a journey, no words are necessary. The experience itself is sufficient and cannot be reduced to words.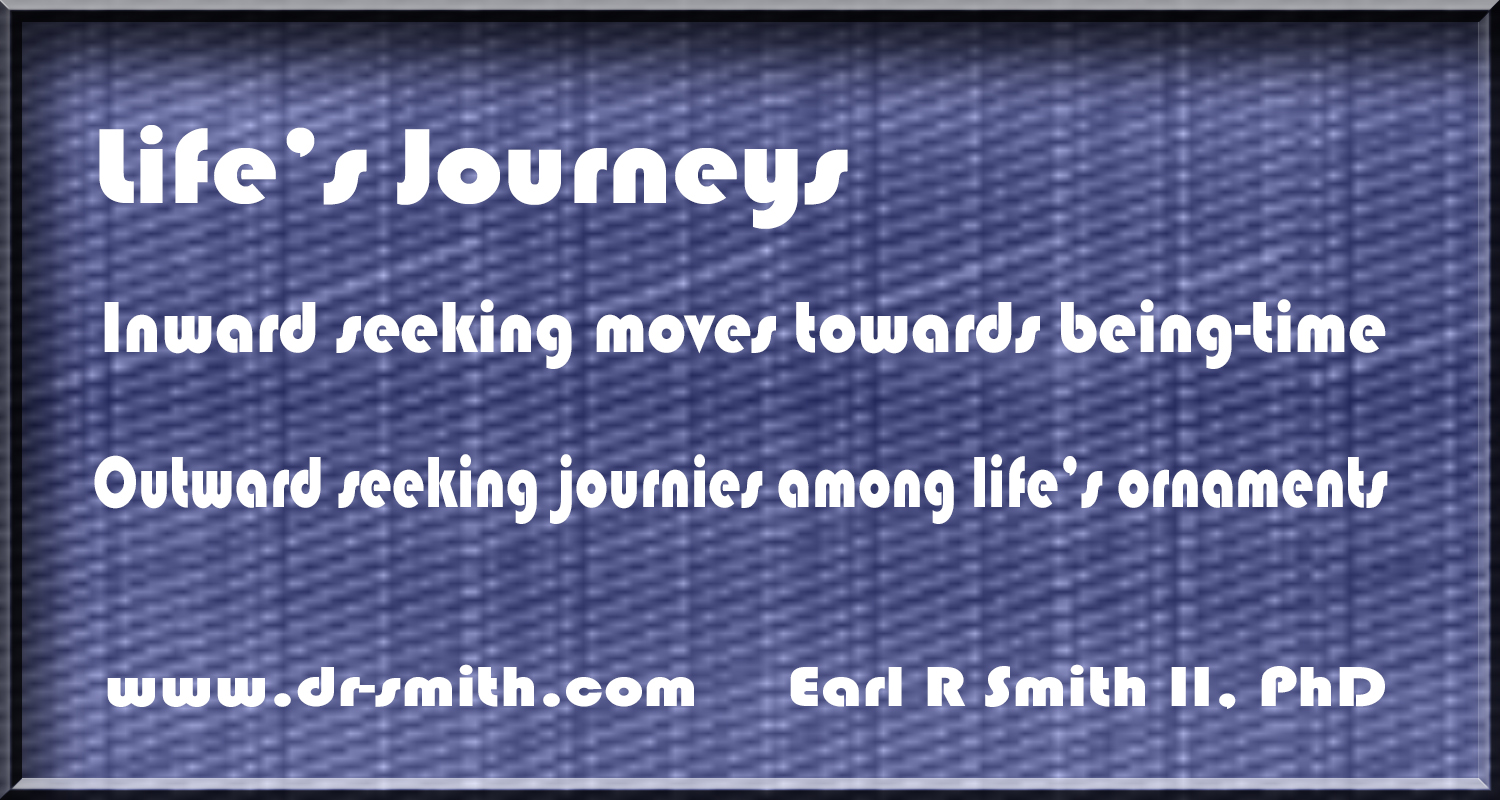 The function and meaning of language changes along the path. The danger is that those taking their first steps may read the leavings of those farther along and misunderstand. You see, in such a situation there are really two languages involved.
Early seekers will read about the "death of ego" and earnestly set about a project of filicide. They will see this "ego" as a principal evil that must be eradicated before they can achieve enlightenment. That's what they take to be the meaning of writers farther along the path.
The problem is, for those early in the journey, that their entire world tends to be "out there" among the ornaments which they have created to populate the world as they try to experience it. They have yet to make the journey from 'right now right here' to 'right now right here'. And so, their vision of their life is limited to such virtual representations. The ideas of being-time or enlightenment are just a linguistic combinations without the meaning that can only be achieved through direct experience.
But a writer who has moved farther along the journey will see things differently. At some point, they have begun to realize that all they have imagined is inauthentic - the concepts, definitions, descriptions and the like all relate to "out there". And now they have become aware of the life force that flows from a center they have never visited. At that point, experience changes and language becomes increasingly inadequate. Simply put, words don't mean what they previously meant.
Farther along the journey, our writer may experience being-time directly. At that point, all that was so central to their prior description of life and the world as they experienced it becomes manufactured objects that are "out there". And that includes the entire idea of ego and the self.
From that center, ego has lost its primacy and the idea of self is no longer an attempt to contradict impermanency. In the language of the center, ego has died. It is no longer a living thing which defines who a person is. It is now seen as a tendency towards grasping - both in terms of a desire to possess and to avoid impermanence.
So, for someone who has made the journey, ego has died but still exists. And, although that makes perfect sense to such a person, the message that a neophyte may garner is that ego must die. The idea that it may die and still exist is beyond that person's language.
Mythology is full of stories of rebirth or being born again. The journey that the Buddha proposed for all mankind follows that path. You may have been born with the vision that there is such a thing as "I" or "me". Along the journey outlined by the Four Noble Truths and the Eight-Fold Path, you may be reborn into a realization that brings you closer to the direct experience of your own life force. When that happens, you will find that thoughts of filicide are unnecessary. The things you called "I" and "me" will not cease to exist. They will simply cease to dominate and define your life.
© Earl R. Smith II, PhD
I look back on the first three months of my work with Dr. Smith with wonder. My journal reflects a journey of self-discovery so vast that I hardly recognize the person who wrote the first entries. It's been a year now and I am happier now than I have ever been.
PJ, Mentoring Client
,
"It's the most amazing experience I have ever had. I needed to find a new path. A friend recommended Dr. Smith. What was most amazing was the wisdom and perception that he brought. New vistas have opened up and, as a result, a new chapter in my life. There's no way that I could put a value on what he has contributed to my life."
Mentoring Client, CEO and Serial Entrepreneur
,
"Chief - that's how Dr.Smith was introduced to me and, based on our work together, I have come to understand why - helped me focus on the possibilities that I had been missing in my life. He guided through developing a new vision for my life. My life is richer because of working with him."
Mentoring Client
,
"Earl is a wise mentor with lots of experience. He has a great way of explaining things and getting you to look at them from another perspective. Dr. Smith is a tough mentor, but, if you can learn just some of what he knows, your life will change forever."
Mentoring Client, Deloitte
,
"Dr. Smith is a very different kind of mentor. If you're looking for a warm and fuzzy adviser, this is the wrong guy for you. But if you are dedicated to change and want to be challenged by a very experienced mentor Earl may be just what you are looking for."
CEO of Croix Connect and Host of ABC Radio's 'Taking Care of Business'
,
"Dr. Smith's mentorship has been of great value and inspiration to my personal and professional development. I felt the need to take a new direction. He helped me sort out the possibilities and showed me ones that I never considered. Working with him has been a truly life-changing experience."
Partner, IT & Telecom, Defense Solutions
,