Page 1 Page 2
Earl R Smith II, PhD
DrSmith@Dr-Smith.com
Dr-Smith.com
'Give a man a match and he will be warm for a day, set a man on fire and he will be warm for the rest of his life.'
Hidden deep within this adolescent obscenity lays a fundamental truth about the nature of leadership. The fire in this case is, of course, the fire of the mind. It can be kindled, for instance, when an individual first experiences how much they have to contribute to a team and, if they set very high standards for themselves, how excellent they can really be. These lessons learned are among the greatest gifts that any human being can give to another. Personally I mark these lessons learned and taught as among my greatest gifts received and finest contributions made.
I am often struck by how many successful leaders are also highly effective teachers … and struck even more by how the lessons that they teach result in changed lives and kindled, or rekindled, fires. The teams they build often set themselves apart with superior performance and seemingly impossible accomplishments.
A story comes to mind about a man who rose to high political office. Afterwards he found himself running his own company and dealing with a young associate whom he had tasked to produce an analysis of a critical part of a major assignment. The young associate submitted his report and it came back heavily marked up with comments … 'this is not clear', 'are you sure that this is the case?' and 'I'm not sure that you got this right', etc. The final mark was a rather direct suggestion that the report needed to be further researched. The associate redoubled his efforts and submitted a substantially revised report … only to get it back with a rash of similar comments and queries. What followed was an all night effort at improvement. The next morning he walked into his senior's office and dropped the report on his desk. 'Sir, I have worked all night on this. It is the best I can do. If it's not good enough, I guess you'll have to fire me'.
'This is the best you can do?' 'Yes it is!' came the reply.
'OK, now I'll read it.'
The report ended up playing a critical role in the successful completion of the assignment and the associate learned the difference between what is casually good and what is purposefully excellent. Two lessons were forcefully deployed. First, 'if you are going to work for me, I expect your best first time and every time'. Second, 'you are capable of much more than you allow yourself'. One lesson without the other would not have been nearly as effective.

The elder had seen unrealized potential in the young associate (an important skill of any effective leader) and structured a learning process that allowed the associate to directly experience how great his potential really was (a critical skill that often puts potential on the road to reality). A fire had been lit.
An effective leader not only kindles these fires of the mind but connects them to a humanity that tempers bravado. The really good lessons come not only with a sense of empowerment but also with a profound sense of humility that banishes shame in favor of a kinder, and often whimsical, relationship to one's self. In that combination is the beginnings of true human growth.
Learning how to kindle and tend these fires should be a top priority for any CEO (or CEO to be) … and always one of the primary areas of focus in my CEO mentoring engagements. The skill is central to good leadership.
Think of it this way, as a leader it is always better to develop a team of maturing adults than one made up of insufferable, angry, prideful and resentful adolescents. A team of the former can change the world: a team of the latter will most often end up destroying each other and your company.
There is a second characteristic of enlightened leadership that I would like to highlight. At a recent Potomac Officers Club event, Bob Woodward told a story about a lunch he had with Katharine Graham. The Watergate articles had begun to draw fire from the administration. The Post had, in deciding to back its reporters, put its journalistic reputation on the line. The situation was tense. The two of them sat down to lunch in Mrs. Graham's private dining room. The first question she asked was "when are we going to learn the truth about what really went on?" As Woodward told it, he answered "probably never". Katharine Graham looked at him intently and said "don't ever tell me never". Bob "left the luncheon a highly motivated man".
Good leaders have a way of generating large effects with seemingly small efforts. The trust that she had in her people was evident in the Post's willingness to go to the line for them. But her message was 'you are capable of turning never into now'. And that they did.
It is important for every CEO to spend time on a regular basis identifying the opportunities for teaching (and learning) such lessons … and thinking honestly about how they either took advantage of, or missed, the chance to kindle a fire. I realize just how difficult such an objective assessment can be but the results can be well worth the effort. First to the benefits:
Three come immediately to mind. First, the review will produce a remembering that is not tainted by the 'heat of the moment' … a forthright review of where leadership skills either rose to the occasion or fell short of the need. Done with an openness and affection for human frailties, such an analysis can help a leader grow past their own limitations. Second, the process can result in a re-thinking of attitudes towards various team members. Missed opportunities can often be re-found … fires that should have been fanned can now be tended and nurtured. Third, the review will produce a better leader; more able to manage such opportunities in the future … and a better team.
But this journey can be a difficult one for the egos that sometimes dominate leaders. Admitting mistakes and omissions can be a difficult challenge for most CEOs. A well chosen guide can radically improve the return.
In a wonderful article in the November 2004 issue of the Harvard Business Review, Stratford Sherman and Alyssa Freas describe how executive coaches can improve individual and team effectiveness. I would urge every CEO to read that article and pass it around to their senior team.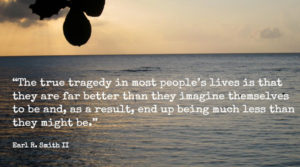 It is increasingly common that larger organizations, often under the prodding of their Board of Directors, provide their CEOs and 'rising stars' with executive coaches precisely to facilitate the process of leadership growth. From the organizations point of view, providing their key people with mentors makes good sense as it can increase the value of the team member and reduce the chances of a serious, career damaging misstep. From the associates perspective it provides a guide … someone who has 'been there and done that' … has made mistakes and learned … knows the difference between what is good and what is excellent. This investment is increasingly seen as a potent way to increase the value of a team member, the probability that key team members will realize their potentials and the overall effectiveness of the team. It is a win-win-win situation.
I marvel at how infrequently CEOs of emerging companies take advantage of this kind of opportunity … both for themselves and for their key people. Not every CEO is ready for an executive coach. Nor is every team. But those who are should consider the option very carefully. As their company grows, they will have to continually re-invent themselves to meet its needs. As they expand their teams, they need to make sure that they unlock the full potential of each member … and kindle the fires that make each a major player in the company's growth. As they employ a wider range of strategic advisers, they will have to make sure that the team is getting the most out of the advice received and can turn that advice to the advantage of the company. In all of this there is no substitute for gray hairs and long experience.
Those that know the mine fields can run through them … those that don't are casualties waiting to happen.
© Earl R. Smith II, PhD
It's the most amazing experience I have ever had. I needed to find a new path. A friend recommended Dr. Smith. From the first, it was clear that he and I were going to get along. What was most amazing was the wisdom and perception that he brought. New vistas have opened up and, as a result, a new chapter in my life. There's no way that I could put a value on what he has contributed to my life.

Mentoring Client, CEO and Serial Entrepreneur
,
Chief - That is how Dr.Smith was introduced to me and, based on our work together, I have come to understand why he was called so. He helped me focus on the possibilities that I had been missing in my life. He guided through developing a new vision for my life. Truly he would be my "Chief" anytime and I will always value his guidance and wisdom. My life is richer because of working with him.

Mentoring Client, NPI Team Lead
,
Earl is a very wise individual with a lot of experience. He truly understands business and professional development. Earl has a great way of explaining things and getting you to look at things from another perspective. Earl is a tough mentor, but if you can learn just some of what he knows you will come out ahead.

Mentoring Client, Deloitte
,
"Dr. Smith is a very different kind of mentor. If you're looking for a warm and fuzzy adviser, this is the wrong guy for you. But if you are dedicated to change and want to be challenged by a very experienced mentor Earl may be just what you are looking for."

CEO of Croix Connect and Host of ABC Radio's 'Taking Care of Business'
,
"I consider Dr. Smith to be a truly revolutionary thinker and leader. His mentorship has been of great value and inspiration to my own personal and professional development. I was at a point in my life where I felt the need to take a new direction. He helped my sort out the possibilities and showed my ones that I never considered. Working with him has been a truly life-changing experience."

Partner, IT & Telecom, Defense Solutions
,
"Dr. Earl Smith is a very gifted and talented thought leader and strategist. I had an opportunity to work with him on various occasions, and found his analytical thought process to be the most creative and illustrative in the industry. He is a great asset in developing business solutions from complex problems and chaos in the every day world." Executive Director, Global Innovation Summit,