Page 1 Page 2
Dr. Earl R. Smith II
DrSmith@Dr-Smith.com
Dr-Smith.com
In this series I have been writing about some of the major breakthroughs that my mentoring clients have managed. While it is true that most of my mentoring work involves slow and steady efforts towards major successes, it's those successes that make the efforts truly worthwhile. The truth is that you cannot have one without the other. No matter what somebody tries to tell you, there are no shortcuts to epiphanies - no magic bullet that will solve all your problems. There is no such thing as a panacea. The sooner you accept that, the sooner you can start on a meaningful journey that will substantially change your life.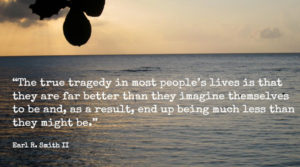 There is one experience that frequently repeats itself in minor variation. It involves my initial interview with a potential client. Many of these people are referred to me. Some come after reading something I wrote or after visiting my website. They are often in distress. Their world doesn't seem to work for them. Most have been struggling with the same challenge for a number of years. Over those years, they have tried several approaches - none of which worked.
These initial interviews surface behaviors which have been limiting the possibility of making significant progress. Here are three of them:
Seeking the simple solution: You live a busy life. It is full of things to do and obligations to meet. What you don't need is another major distraction. Working on yourself seems like one. Can't somebody come up with a salve that you can rub on and have it all go away? The true answer is no, they can't. Because there is no such a thing as a simple answer to a complex challenge. You don't learn - you don't change - you don't advance in power and understanding because someone whispers a few magic words in your ear. Moving away from this tendency begins with the discovery that it is the complexity of living with all its details, currents and colors that makes it worth living.
Avoiding the issues: I see this behavior a lot. Mostly it seems to arise from a suspicion of self bad faith or inadequacy. Sometimes the person simply doesn't have the personal courage to address the behaviors that are limiting their potential. It becomes easier for you to talk about some non-threatening issue. An old joke comes to mind. A man is describing his relationship with his wife. "We have divided up the responsibilities. She decides the little things and I decide the big ones. She decides how to spend our money, where we will live and who we will be friends with. I decide who our country will go to war with, who will be the next president and what the Supreme court will decide." Avoiding the issues often involves talking incessantly about things that don't matter. Breaking this pattern begins with a decision to break the pattern.
No time: I meet people who are so busy driving that they have no time to stop for gas. By the time they come to me, they are running on empty. The good news is that this is one of the easier problems to fix. The bad news is that they need a tow truck to get them to the nearest gas station.That's where I come in. Frenetic lives seldom produce the kinds of satisfactions that most people are looking for in theirs. The truth is that there is plenty of time if you just stop the frenetic activity and put aside part of your day for you and your journey.
The First Step
Quite often the most important first step in my mentoring engagements is focused not on the future of the mentoring client but on their past behaviors. Over the years, I have developed a series of exercises that every new client goes through. They are designed to establish a baseline for common reference. But they also surface behaviors that have been limiting opportunities. Behaviors like those described above and many more are roadblocks that have limited progress. Think of them as brick walls that you constantly run at only to be thrown back. You can hit that wall over and over again for years. The only thing that comes out of the experience is a growing certainty that you cannot drive through the wall. But what if the wall is irrelevant? What if it is meaningless? What if its only meaning is that it limits your future? Distracts you from getting on with growing. Keeps you occupied while your life fades away.
The most important first step in a successful mentoring engagement comes when my client decided to step away from limiting behaviors and move forward. They decide that it is more important to grow than to occupy their time trying over and over again trying to crash through a wall that has little to do with how their life could turn out. An Example may help you understand what I am getting at. One of my clients was pursuing a career as a senior executive on Wall Street. He was fairly successful at it and had risen to the level of senior vice president for one of the front line investment banking houses. But as he put it, "my life isn't doing it for me."
The initial sessions identified the brick wall. When he was younger, he idolized his father. Now, with his father gone some six years, he was fulfilling a promise he made to his dad. You see, his father always wanted him to go into investment banking. The brick wall was his father's vision for his life. It took many hard sessions to actually work towards and come to terms with that problem. But, he persevered - overcame - without desalinizing his father or denigrating himself. He put aside his father's vision for his life and focused on his own. Now he runs his own company. It helps creative kids come to terms with and move around their own brick walls.
The right first step can have a truly astounding impact. Find it. Take it. You are waiting.
~~~~~~~~~~~~~~~~~~~~~~~~~~~~~~~~~~~~~~~~
© Dr. Earl R. Smith II
I look back on the first three months of my work with Dr. Smith with wonder. My journal reflects a journey of self-discovery so vast that I hardly recognize the person who wrote the first entries. It's been a year now and I am happier now than I have ever been.
PJ, Mentoring Client
,
"It's the most amazing experience I have ever had. I needed to find a new path. A friend recommended Dr. Smith. What was most amazing was the wisdom and perception that he brought. New vistas have opened up and, as a result, a new chapter in my life. There's no way that I could put a value on what he has contributed to my life."
Mentoring Client, CEO and Serial Entrepreneur
,
"Chief - that's how Dr.Smith was introduced to me and, based on our work together, I have come to understand why - helped me focus on the possibilities that I had been missing in my life. He guided through developing a new vision for my life. My life is richer because of working with him."
Mentoring Client
,
"Earl is a wise mentor with lots of experience. He has a great way of explaining things and getting you to look at them from another perspective. Dr. Smith is a tough mentor, but, if you can learn just some of what he knows, your life will change forever."
Mentoring Client, Deloitte
,
"Dr. Smith is a very different kind of mentor. If you're looking for a warm and fuzzy adviser, this is the wrong guy for you. But if you are dedicated to change and want to be challenged by a very experienced mentor Earl may be just what you are looking for."
CEO of Croix Connect and Host of ABC Radio's 'Taking Care of Business'
,
"Dr. Smith's mentorship has been of great value and inspiration to my personal and professional development. I felt the need to take a new direction. He helped me sort out the possibilities and showed me ones that I never considered. Working with him has been a truly life-changing experience."
Partner, IT & Telecom, Defense Solutions
,