Page 1 Page 2
Dr. Earl R. Smith II
DrSmith@Dr-Smith.com
Dr-Smith.com
~~~~~~~~~~~~~~~~~~~~~~~~~~~~~~~~~~~~~~~~
Socrates observed that 'a life unexamined is not worth living'. Nowhere is that more true than when we act against our own self-interests and suffer the consequences - pay the bills for our own rash actions.
~~~~~~~~~~~~~~~~~~~~
"It's what you do without realizing it that can really mess things up."
That's the way one of my early mentors used to put it. Jim was constantly pointing out those things I did without thinking - and the effect of my having done them on future prospects. Now don't get me wrong, Jim was not an advocate of "staying low and not making waves". Far from that, he made more than his share of waves and was a real change agent in his business and personal relationships. He insisted that you had to realize the likely impact of doing this or being that way on what you wanted to get out of life and the people around you.
I don't want to give the impression that Jim was manipulative or an opportunist. Nothing could be farther from the truth. Jim's suggestion was inwardly, rather than outwardly, focused. He seemed to have taken one of the proscriptions over the entrance to the temple of the oracle at Delphi quite seriously - "above all - know thyself".
My mentoring practice often gives me a chance to apply Jim's prescription. Most of the time, new clients are suffering some crisis in either their career or private life. Most of the time they have been unable to figure out why this suffering has come to them. The search for answers is almost always an inward journey - a journey of self-discovery.
One particular client comes to mind. This person was in their early 30's. He had the beginnings of a good career but there were problems showing up. During the last five years he had jobs with three different companies. His resume was starting to reflect the fact that he could not seem to stay in one place for very long. The first move was a promotion of sorts but the second one was clearly lateral.
That was what I saw when I looked at this resume. However, that was not what my client wanted to talk about during our initial sessions. Current conflicts with team members were causing concern and leading to 'serious talks' with his supervisors. His focus was on those immediate problems - but, he avoided thinking about them within the historical context of the last several years. My first task was to help him break through to a deeper self-knowledge.
The effort took several sessions. Eventually we began to talk about his experiences in the other companies. What we discovered was that a similar pattern seemed to develop no matter where he was working. He also began to talk about how this pattern was present in his personal life. He was divorced and had gone through a series of rather short-term relationships since.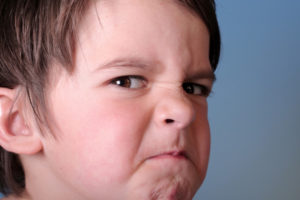 The real breakthrough came when we began to talk about his participation in various chat rooms and social media sites. Behind a screen of supposed anonymity, his behavior became more extreme. He was more judgmental, more aggressive and far more intemperate. As we read through the messages that he had sent, I could see him becoming more and more embarrassed.
I do want to be clear about something - the personae in the chat rooms and social media sites was not his real personality but a distillation of certain tendencies within that personality. He became someone within that environment because he thought that no one would connect his real life with the fictional one. The supposed anonymity magnified center tendencies and subordinated others. As a foot note, he was wrong about the anonymity. He behaved in this manner on sites which contained his 'profile' - a profile that listed his company and job. One of the 'serious talks' with a supervisor was triggered by an e-mail complaint received from one of his 'targets'. Anonymity, it seems, is not all it's supposed as being.
Over a period of about six months, we worked to connect certain tendencies to some of the more negative results he was experiencing. It was hard going at first but, to his credit, he stayed with it. We used several strategies to accelerate the process. For instance, I asked him to keep a detailed journal. This provided a way to talk about results and trace them to behaviors.
I also had him begin to talk to some of his contemporaries about his behavior. He was able to enlist several to the cause. Some of them developed 'red flags' that they would wave when he started an intemperate behavior. One was particularly funny. When he started to act up, his 'monitor' would mention how good the coffee tasted today. The first time she did this, my client shot back "I don't care about the damn coffee." At which point, she fixed him with a sharp glare and said "well, you should - good coffee is a terrible thing to waste!"
We all do things without thinking. What saves us from eternally making the same mistakes and suffering the same consequences is our human ability to learn. Some things you learn by yourself. For others you need the assistance of another human being or two. My client is now off on his own and a real evangelist on the topic of unintended consequences of intemperate actions. Sometimes too much of an evangelist it seems - the other day she tapped him on the shoulder and mentioned how good the coffee tasted today!
~~~~~~~~~~
© Dr Earl R Smith II
I look back on the first three months of my work with Dr. Smith with wonder. My journal reflects a journey of self-discovery so vast that I hardly recognize the person who wrote the first entries. It's been a year now and I am happier now than I have ever been.
PJ, Mentoring Client
,
"It's the most amazing experience I have ever had. I needed to find a new path. A friend recommended Dr. Smith. What was most amazing was the wisdom and perception that he brought. New vistas have opened up and, as a result, a new chapter in my life. There's no way that I could put a value on what he has contributed to my life."
Mentoring Client, CEO and Serial Entrepreneur
,
"Chief - that's how Dr.Smith was introduced to me and, based on our work together, I have come to understand why - helped me focus on the possibilities that I had been missing in my life. He guided through developing a new vision for my life. My life is richer because of working with him."
Mentoring Client
,
"Earl is a wise mentor with lots of experience. He has a great way of explaining things and getting you to look at them from another perspective. Dr. Smith is a tough mentor, but, if you can learn just some of what he knows, your life will change forever."
Mentoring Client, Deloitte
,
"Dr. Smith is a very different kind of mentor. If you're looking for a warm and fuzzy adviser, this is the wrong guy for you. But if you are dedicated to change and want to be challenged by a very experienced mentor Earl may be just what you are looking for."
CEO of Croix Connect and Host of ABC Radio's 'Taking Care of Business'
,
"Dr. Smith's mentorship has been of great value and inspiration to my personal and professional development. I felt the need to take a new direction. He helped me sort out the possibilities and showed me ones that I never considered. Working with him has been a truly life-changing experience."
Partner, IT & Telecom, Defense Solutions
,