This volume is written as a series of 'thinking pieces' that are to serve as points of meditation on important matters. Think of them as rocks leading to the shore. I'll leave you to figure out what and where the shore is, what the canoe signifies and what's the reason for the journey. All I intend to do is provide a general map of where the stones are. I wish you well on your journey and hope that my map is of some use to you.
Or buy directly, get a PDF version
All the proceeds will go to support cancer research
I provide mentoring to those who have both the courage and determination to make a truly transformational journey. My approach is heavily influenced by core principles of Zen Buddhism. I don't offer quick fixes or follow the latest fads. If you are willing to make the long journey – if it's time for you to come to know the person you really are and can become – if you intend to finally find the path you should be following – if you want to start living life you were truly meant to live – then perhaps we should talk. Send me an e-mail and we'll arrange a time to chat.
From Zen Mentoring: Forty Meditations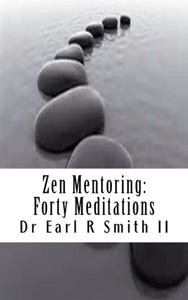 What I discovered, those decades ago, was that Buddhism was not a religion but a way of looking at the experience of being alive as a human being. That single understanding was truly life-changing. It set me on a journey of discovery and learning. Here was wisdom whose roots reach back well over 5000 years into human history. It represents the cumulative insights of hundreds of millions of human beings. And yet it is founded on only four basic principles.
Those principles do not judge who you are or what you've become. They don't condemn or denigrate. They don't separate humanity into "them" and "us". They don't condemn parts of humanity to "hell" and consign the rest to "heaven". In fact, the core principles of Zen Buddhism are completely without negative reference. They are based on the inherently positive idea that all humans carry within them the capability to experience life as the wonderful gift that it is. It's four core principles gently suggest a path towards achieving this experience.
When I began mentoring, I tried all sorts of approaches. It quickly became apparent that my own experience with Zen Buddhism provided by far the most effective approach. At first I was worried that such an approach would seem alien to the people I was mentoring. But it quickly became apparent that such worry was wasted energy. Doors opened for client after client. The sun came up with warming frequency for the people I was working with. In short, it worked better than all the other "self-help" approaches.
~~~~~~~~~~~~~~~~~~~~
As I look back over my experiences, the ones that I value above all are the times when I was able to help others. My fondest memories are of those times when a person faced a challenge that was truly daunting and was, with my help, able to overcome that challenge and grow in capability and understanding far beyond what they thought they were capable of. In a real sense, this book is written for those who find themselves in similar situations - facing challenges that they are not sure they can overcome. The message that I very much want to communicate is 'Yes, you can overcome. Yes you can grow in mastery, understanding and knowledge. You can become so much more than you are."
Or buy directly, get a PDF version
All the proceeds will go to support cancer research
I look back on the first three months of my work with Dr. Smith with wonder. My journal reflects a journey of self-discovery so vast that I hardly recognize the person who wrote the first entries. It's been a year now and I am happier now than I have ever been.
PJ, Mentoring Client
,
"It's the most amazing experience I have ever had. I needed to find a new path. A friend recommended Dr. Smith. What was most amazing was the wisdom and perception that he brought. New vistas have opened up and, as a result, a new chapter in my life. There's no way that I could put a value on what he has contributed to my life."
Mentoring Client, CEO and Serial Entrepreneur
,
"Chief - that's how Dr.Smith was introduced to me and, based on our work together, I have come to understand why - helped me focus on the possibilities that I had been missing in my life. He guided through developing a new vision for my life. My life is richer because of working with him."
Mentoring Client
,
"Earl is a wise mentor with lots of experience. He has a great way of explaining things and getting you to look at them from another perspective. Dr. Smith is a tough mentor, but, if you can learn just some of what he knows, your life will change forever."
Mentoring Client, Deloitte
,
"Dr. Smith is a very different kind of mentor. If you're looking for a warm and fuzzy adviser, this is the wrong guy for you. But if you are dedicated to change and want to be challenged by a very experienced mentor Earl may be just what you are looking for."
CEO of Croix Connect and Host of ABC Radio's 'Taking Care of Business'
,
"Dr. Smith's mentorship has been of great value and inspiration to my personal and professional development. I felt the need to take a new direction. He helped me sort out the possibilities and showed me ones that I never considered. Working with him has been a truly life-changing experience."
Partner, IT & Telecom, Defense Solutions
,