Earl R. Smith II. PhD
DrSmith@Dr-Smith.com
Dr-Smith.com
When I started the research for Self-Sabotage: 12 Nasty Habits, I was responding to a single experience – a chance occurrence that lead me to consider why this person acted in a way that was clearly against his own interest. But, as I got into the research and began asking more and more people about self-sabotaging behaviors, I came to realize that I had wandered into a large, dark room that was filled with furniture with sharp edges.
Through conversations that often went on for more than two years, I developed my dirty dozen – 12 habits that were clearly damaging the prospects and lives of the people engaging in them. The result was the publication of Self-Sabotage: 12 Nasty Habits.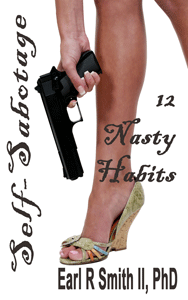 The reception that the book received was far beyond my wildest expectations. People read it and took the time to let me know how important it was to them. They saw themselves in some of the chapters and many gathered the energy and commitment to make changes – to stop sabotaging their own interests – to stop damaging their own life.
About a month after the publication of the book, I received an email from a reader. This one was different from the others. Key sentences from it will show you why. "I read your book and found myself adopting some of the behaviors that you describe. I didn't do it consciously. I just began. Then I realized that my compulsion is to self-sabotage. Your book gave me new ways to do that. Ones I had never thought of."
Well you might imagine my response. I read and reread the email. It was hard to get my mind around the fact that, even though I had written a book to help people stop self-sabotaging, it would be the instrument of enabling someone to be more proficient in doing just that.
A memory came creeping back. When I was at the Sloan School of Management in MIT I had the great fortune to study with Jay Forrester, the creator of the first computer memory core as well as a new way of looking at complex systems. Jay was fond of saying, "with complex systems, it's the second order effects that will surprise you." Second order effects are the unintended consequences of any action.
Suddenly the email made sense. The book not only helped most people identify and avoid self-sabotaging behaviors. It also helped identify those who choose to live a life of compulsive self-sabotaging.
I have contacted the person who wrote the email. He is the CEO of a middle-market company. We have begun working together. Progress is being made. And, it seems that my dirty dozen has a cousin.
© Earl R. Smith II, PhD
I look back on the first three months of my work with Dr. Smith with wonder. My journal reflects a journey of self-discovery so vast that I hardly recognize the person who wrote the first entries. It's been a year now and I am happier now than I have ever been.
PJ, Mentoring Client
,
"It's the most amazing experience I have ever had. I needed to find a new path. A friend recommended Dr. Smith. What was most amazing was the wisdom and perception that he brought. New vistas have opened up and, as a result, a new chapter in my life. There's no way that I could put a value on what he has contributed to my life."
Mentoring Client, CEO and Serial Entrepreneur
,
"Chief - that's how Dr.Smith was introduced to me and, based on our work together, I have come to understand why - helped me focus on the possibilities that I had been missing in my life. He guided through developing a new vision for my life. My life is richer because of working with him."
Mentoring Client
,
"Earl is a wise mentor with lots of experience. He has a great way of explaining things and getting you to look at them from another perspective. Dr. Smith is a tough mentor, but, if you can learn just some of what he knows, your life will change forever."
Mentoring Client, Deloitte
,
"Dr. Smith is a very different kind of mentor. If you're looking for a warm and fuzzy adviser, this is the wrong guy for you. But if you are dedicated to change and want to be challenged by a very experienced mentor Earl may be just what you are looking for."
CEO of Croix Connect and Host of ABC Radio's 'Taking Care of Business'
,
"Dr. Smith's mentorship has been of great value and inspiration to my personal and professional development. I felt the need to take a new direction. He helped me sort out the possibilities and showed me ones that I never considered. Working with him has been a truly life-changing experience."
Partner, IT & Telecom, Defense Solutions
,