Dr. Earl R. Smith II
DrSmith@Dr-Smith.com
Dr-Smith.com
In the Battle Against Inertia
"It is important to act on good ideas - I have not done that consistently."
I recently came across this in one of my old journals. I remember the feelings that were there when I wrote it. Acting on good ideas is part of personal growth - part of an effort at self-improvement. The mind comes up with these flashes of lightening but it is the body that drives them into action. So where does this leadership come from - what leadership style is needed to consistently turn good ideas into action? How do you become an adviser to yourself - and adviser who does more than urge action and regret the lack of it?

The trap is, of course, that the very pursuit of this question can sink into a cesspool of self-recrimination. And, in that action, yet another good idea will pass into the realm of 'good but not acted on'. The critical first step is leadership development - to bring forth the tendencies in your own reaction to good ideas that will increase the chances that they will be acted upon. And this step is more in the realm of spirituality than 'management'. The turn of mind that allows you to follow-up on good ideas begins with a re-envisioning of some very important parts of yourself. So let's talk about how you welcome - then deal with - 'good ideas'.
How often do you celebrate the arrival of a good idea? How often do you take leadership in the announcement of its presence? Think about it. Do you make a 'big thing' out of it or tend to hide the fact of its arrival - perhaps under the suspicion that you really don't get or deserve good ideas anyway. I'm not talking about blowing your own horn here - but blowing the 'idea's' horn.
How often do you feel grateful that you have been blessed with this good idea? It's one thing to recognize a good idea and yet another to realize that it came to you and not to somebody else. Do you think about that at all?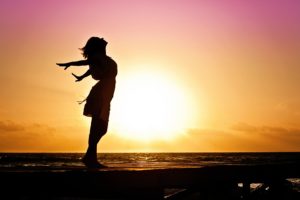 How often do you recognize a good idea for what it really is - a gift that you can give to others - a special something that will have value in their lives as well as in yours? The really marvelous thing about good ideas is that they don't disappear when you share them with other - most often they get even better and more valuable. In an important sense you become the Chairman of the Board of Directors of this good idea - help it grow and become something even more potent - more valuable.
Finally, how often do you recognize that it was you and not somebody else that had this good idea? This goes directly to your own self-image and you need to think about it carefully. Do you see yourself as somebody who generates good ideas or are good ideas just accidents that happen to happen to you?
Here's my suggestion - welcome each good idea and celebrate its arrival - feel grateful for having been chosen as the recipient of this marvelous gift - don't hide your good ideas but share them with other and contribute to the making of even better ideas - and remember always that it was you that came up with the idea and you that can come up with others.
© Dr. Earl R. Smith II
I look back on the first three months of my work with Dr. Smith with wonder. My journal reflects a journey of self-discovery so vast that I hardly recognize the person who wrote the first entries. It's been a year now and I am happier now than I have ever been.
PJ, Mentoring Client
,
"It's the most amazing experience I have ever had. I needed to find a new path. A friend recommended Dr. Smith. What was most amazing was the wisdom and perception that he brought. New vistas have opened up and, as a result, a new chapter in my life. There's no way that I could put a value on what he has contributed to my life."
Mentoring Client, CEO and Serial Entrepreneur
,
"Chief - that's how Dr.Smith was introduced to me and, based on our work together, I have come to understand why - helped me focus on the possibilities that I had been missing in my life. He guided through developing a new vision for my life. My life is richer because of working with him."
Mentoring Client
,
"Earl is a wise mentor with lots of experience. He has a great way of explaining things and getting you to look at them from another perspective. Dr. Smith is a tough mentor, but, if you can learn just some of what he knows, your life will change forever."
Mentoring Client, Deloitte
,
"Dr. Smith is a very different kind of mentor. If you're looking for a warm and fuzzy adviser, this is the wrong guy for you. But if you are dedicated to change and want to be challenged by a very experienced mentor Earl may be just what you are looking for."
CEO of Croix Connect and Host of ABC Radio's 'Taking Care of Business'
,
"Dr. Smith's mentorship has been of great value and inspiration to my personal and professional development. I felt the need to take a new direction. He helped me sort out the possibilities and showed me ones that I never considered. Working with him has been a truly life-changing experience."
Partner, IT & Telecom, Defense Solutions
,