Earl R Smith II, PhD
DrSmith@Dr-Smith.com
Dr-Smith.com
There are times, in my role as a mentor, when the slightest action yields the most important result. Nowhere is that more the case then when I help someone break through their own tendencies and set foot upon the path which is destined to be their true life's journey.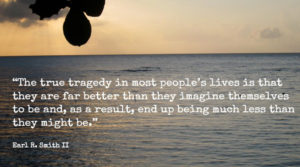 If there is a risk in education it is that we become more adept at self-deception. We tend to describe our experiences as if they are events 'out there' and have the sense that someone else is having them. Ego drives us to objectify our self and the experience of living. In doing so, we cast aside our innate ability to live our unique life. We end up as the starring actor in a play of our own composing. And, generally, we are rather poor playwrights.
I had been working with an individual, let's call him Ralph, for a couple of months. Although Ralph was diligently following my suggestions, I increasingly had the feeling that I wasn't dealing with him but the manufactured reality that Ralph called Ralph. Since I take my responsibilities as a mentor very seriously, it was very frustrating.
The break came when I had had enough. Ralph was more than happy to go on talking about his virtual Ralph. But I came to realize that I was wasting my time and his money. So, I told him that I was terminating the engagement.
"Why? I thought that we were making real progress," he asked?
"I signed on to work with Ralph, not his puppet. I don't work with virtual students. Life is too precious to spend it fencing with delusions."
The silence that followed seem to go on forever. I waited. Deep in thought, it was clear that Ralph was struggling to get the courage to speak words that he feared to hear himself saying. So, I waited. Finally, he looked up.
"I guess I am afraid of who I really am. Maybe I won't live up to people's expectations. Maybe I'm just not worth it. The truth is, that if I were you I wouldn't work with me. I spent so much time building a Ralph that I can be proud of but, in my heart, I know it's an illusion. I came to you because, deep down, I had become afraid that I would live my life without ever living it as me."
"You equivocate because you think that the manufactured Ralph is somehow a better Ralph than you are. Tell me, who is more important the actor or the playwright? In this foolishly shallow culture, everybody remembers the actor and nobody remembers the playwright. As a result, playwrights have become meaningless hacks who turn out pablum. Actors end up performing meaningless roles in a trash pile of irrelevancy. I'll deal with the author but not the manufactured reality. You take some time to think about it. If the authentic Ralph wants to show up I will be happy to work with him. If the virtual Ralph shows up it will be a short meeting and you will get the check."
That was three weeks ago. It was ten days after our session that our next meeting took place. And yes, it was the authentic Ralph that showed up. And the truth is that, no matter what progress we make over the next year, that single meeting will probably add more to Ralph's life. Having touched a truth about himself, there is now no going back. Every advance, every new understanding, all the peace and self-knowledge became possible in that single moment when brave self-understanding took the place of equivocation.
For me, nothing is more gratifying than this kind of breakthrough. To see someone who has been struggling for years begin to smile both at their own foibles and the path which now lays before them is a gift worth more than fortune and fame. A life has been reclaimed. A star will begin to shine.
© Earl R. Smith II, PhD
I look back on the first three months of my work with Dr. Smith with wonder. My journal reflects a journey of self-discovery so vast that I hardly recognize the person who wrote the first entries. It's been a year now and I am happier now than I have ever been.
PJ, Mentoring Client
,
"It's the most amazing experience I have ever had. I needed to find a new path. A friend recommended Dr. Smith. What was most amazing was the wisdom and perception that he brought. New vistas have opened up and, as a result, a new chapter in my life. There's no way that I could put a value on what he has contributed to my life."
Mentoring Client, CEO and Serial Entrepreneur
,
"Chief - that's how Dr.Smith was introduced to me and, based on our work together, I have come to understand why - helped me focus on the possibilities that I had been missing in my life. He guided through developing a new vision for my life. My life is richer because of working with him."
Mentoring Client
,
"Earl is a wise mentor with lots of experience. He has a great way of explaining things and getting you to look at them from another perspective. Dr. Smith is a tough mentor, but, if you can learn just some of what he knows, your life will change forever."
Mentoring Client, Deloitte
,
"Dr. Smith is a very different kind of mentor. If you're looking for a warm and fuzzy adviser, this is the wrong guy for you. But if you are dedicated to change and want to be challenged by a very experienced mentor Earl may be just what you are looking for."
CEO of Croix Connect and Host of ABC Radio's 'Taking Care of Business'
,
"Dr. Smith's mentorship has been of great value and inspiration to my personal and professional development. I felt the need to take a new direction. He helped me sort out the possibilities and showed me ones that I never considered. Working with him has been a truly life-changing experience."
Partner, IT & Telecom, Defense Solutions
,