What begins as a series of bizarre murders in the theater district of Manhattan, quickly develops into a global struggle against a powerful international criminal cabal. Anna engages a criminal mastermind in a chess game where real pieces are slaughtered. Fortunes are lost and gained. The stakes are high, the chess board global, the weapons varied but the end game objective is the same – total victory.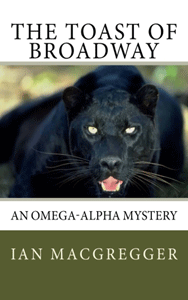 Volume One in the Omega Alpha Cabal Series
Buy directly, get a PDF version
All the proceeds will go to support cancer research
Enter the world of Omega/Alpha. Meet Anna. A paranormal private detective, psychic and much more. Her confidential assistant, Ian MacGregger. A Scot transplanted from Scotland Yard via Interpol. Then there's the French electronics expert and bodyguard, the ancient Catalan butler, a cleaver wielding Chinese Chef and a gardener who is older than dirt. Throw in the old man who lives up on the mountain, a panther, grey wolf, a seven foot long bushmaster and a resident raven. Stir in psychic connections, intuitions and shape shifting and you have one of the most unique places on the planet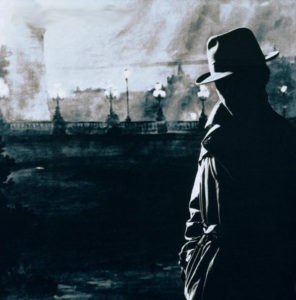 My name is Ian MacGregger. I was born in Inverness, Scotland during the winter of 1973. My father was a shepherd. My mother worked for the local council. We lived in a small cottage along the A82 on the north bank of Loch Ness. I grew up on the Loch. Got my first boat when I was thirteen. Spent days exploring its coves. And, oh yes, I did see Nessie! But that was much later on after a late evening that involved several pints and more than my share of Scapa Flow whisky. Nice girl. Pretty face. Longish neck. Not much in the leg department.I attended University in Glasgow. Studied business. Didn't take me long to see that as a dead end. After graduation I headed to Scotland Yard. That's probably how you know it. Actually it's the Metropolitan Police Service of London or the 'Met'. There I found my true calling. Investigation. And got trained in it to boot. Clawed my way up to Inspector.I'll admit that I'm not much of an organization man. Not that I have trouble with authority, I just don't pay it the attention it thinks it's due. As a result, I got assigned to a lot of task forces.One assignment took me to Paris. Interpol was running down a weapons dealer and needed some UK representation on the team. I was glad to volunteer. I like Paris – always have. The auld alliance and all. It was there that I met Anna – my current employer. My life has not been the same since.I am Anna's confidential assistant. And, before you ask, I don't know her last name. As far as I can determine, she hasn't got one. She is a paranormal private detective with an amazing range of skills and abilities. A genius to be sure but a great deal more.
I've been with Anna for just over five years. I manage her rather substantial holdings. There is the office work. I never seem to be able to get totally away from it. But, that's not what keeps me working for Anna. They bring her the tough cases. Manhattan homicide, the FBI, the letter agencies of the intelligence communities – even the Westchester county police. The ones that they can seem to find a finger hold on – let alone a hand hold. I've been involved in some of the most interesting investigations that any private detective could pray for. Sure, I get shot at occasionally and there is a growing list of people who would rather I was dead. Sure, the local cops think of me as some sort of imported disease. But I love what I'm doing.And the digs are not bad either.
Anna owns two houses in the State of New York. The estate is in Westchester county. Four hundred and fifty acres on top of a mountain and overlooking the Hudson River. She calls it Omega. Her second home is a brownstone on the west side of Manhattan which she calls Alpha. I have rooms in both. Take it from a resident. The cottage on the A82 can't compete. There is also a house and extensive grounds on an island off of Cuba. She owns the whole island. But I can't talk about that. I'm sure you'll understand.
Now, with Anna's permission, I write about some of the more interesting cases that come our way.