Earl R Smith II, PhD
DrSmith@Dr-Smith.com
Dr-Smith.com
You are busy. There is so much happening around you. People, events - the general coming and going that makes up your day. All of these keep you distracted - sociologists and psychologists would describe you as engaged and involved.
Your mind is busy. It jumps around from idea to memory to concerns about the future. In Zen, we refer to it as the 'monkey mind'. It decorates your experience with stories about the past events and apprehensions about the future and pushes away the treasure of the moment.
As a result, you end up looking outside this moment for happiness, an escape from grief or pain, satisfaction or any of a wide range of coping strategies. If you are not careful, these distractions can become your entire life.
But it is important to realize that all of them are illusions - stories that your mind has made up. When you look outside of what is happening in this moment, all you ever find are stories and fantasies. In Zen thinking, we called this not being present in the moment.
You are not somewhere else; but you are looking somewhere else.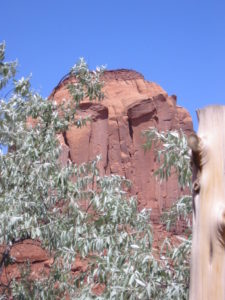 To be clear, there are times when looking somewhere else is helpful. When crossing a busy street it is useful to look both ways. When you are walking along a busy sidewalk, it is useful to be aware of the people around you. Situational awareness has its benefits. But that's not what I'm talking about.
It's the present moment and the treasure it brings that is my focus. The strange thing about memory and fantasies about the future is that we accept them as real. But they are not. Memories are almost surely inaccurate. Fantasies about the future may or may not come true. But your experience in the present moment is always accurate and real. That is, if you are living in the present moment and paying attention.
You don't have to wonder if it's going to come true. You don't have to wonder if it is real. In fact, it's the only thing in your life that you can be absolutely certain of. The moment that is happening is real. It is not a story or a fantasy. And there is another thing. The experience of the present moment is always true.
Every experience that you are having right now, including reading these words and the thought that are arising in your mind, is real. You don't have to question whether you are reading. You experience those thoughts intimately. That is the treasure of the present moment. Certainty. When all else around you is provisional, the bedrock of your life is that certainty.
© Earl R. Smith II, PhD
I look back on the first three months of my work with Dr. Smith with wonder. My journal reflects a journey of self-discovery so vast that I hardly recognize the person who wrote the first entries. It's been a year now and I am happier now than I have ever been.
PJ, Mentoring Client
,
"It's the most amazing experience I have ever had. I needed to find a new path. A friend recommended Dr. Smith. What was most amazing was the wisdom and perception that he brought. New vistas have opened up and, as a result, a new chapter in my life. There's no way that I could put a value on what he has contributed to my life."
Mentoring Client, CEO and Serial Entrepreneur
,
"Chief - that's how Dr.Smith was introduced to me and, based on our work together, I have come to understand why - helped me focus on the possibilities that I had been missing in my life. He guided through developing a new vision for my life. My life is richer because of working with him."
Mentoring Client
,
"Earl is a wise mentor with lots of experience. He has a great way of explaining things and getting you to look at them from another perspective. Dr. Smith is a tough mentor, but, if you can learn just some of what he knows, your life will change forever."
Mentoring Client, Deloitte
,
"Dr. Smith is a very different kind of mentor. If you're looking for a warm and fuzzy adviser, this is the wrong guy for you. But if you are dedicated to change and want to be challenged by a very experienced mentor Earl may be just what you are looking for."
CEO of Croix Connect and Host of ABC Radio's 'Taking Care of Business'
,
"Dr. Smith's mentorship has been of great value and inspiration to my personal and professional development. I felt the need to take a new direction. He helped me sort out the possibilities and showed me ones that I never considered. Working with him has been a truly life-changing experience."
Partner, IT & Telecom, Defense Solutions
,