Dr. Earl R. Smith II
DrSmith@Dr-Smith.com
Dr-Smith.com
It's one of those questions that comes up regularly at networking events. People take turns introducing themselves and describing what they do for a living. And then it gets to be my turn. "I'm a mentor."
At first there is silence – it's a real conversation stopper. And then someone asks, "What exactly does a mentor do?"
I've tried several ways to explain. Here's the one that seems to make the most sense to people.
"A Mentor is kind of a mid-wife. You wouldn't give a mid-wife credit for the baby, would you? But the skills, experience, advice and support of a mid-wife helps the parents get through the final push towards birth The same is true for a breakthrough to a eureka moment. I help people to be re-born."
A Mentor isn't a magician. I don't create what is not there in the first place. There's an old Buddhist saying, "When the student is ready, the teacher will appear." Like the mid-wife, who needs a child nearing birth, I look for fruit that is about to ripen. Yeah, I know that's a mangled metaphor, but it does describe how I select people to work with.
In any group, there are those who have decided to make the effort to change their lives. Maybe they have made the commitment to deepen their self-understanding. Perhaps they have come to believe that their life is going in the wrong direction. They have decided that it's time to make a change – to embark on a truly transformational journey.
One of the characteristics of the 'ready' is that they are less sure of themselves. Bravado and manufactured certainty have run their course and no longer work. Some seem adrift and disconnected. It's often an indication that they have begun to turn inward. But, whatever the way, they are open to discussing the possibility of self-discovery.
That's where I come in. Much like the mid-wife, I assess the patient. Are they ready for what's to come? Is it time? Do they have the determination to stay the course? (OK, that one doesn't apply to mid-wives but it does to Mentoring.)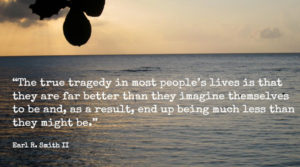 My guiding principles are 1) that people are far better than they think they are and 2) that they can realize that by beginning a journey of self-discovery. It's not rocket science. It's not even that hard. It's a journey that must be made.
"You need that rite of passage to the summer of your life."
That's it in a nutshell. A Mentor is an experienced guide. Someone who has walked the paths, faced the challenges and slaughtered the daemons. Who can lend courage and support when the going gets a bit rough. And, bring out the best in others. For the most part, they are people who have had the great good fortune of having mentors themselves. Mentors want to pass on the experience.
© Dr. Earl R. Smith II
I look back on the first three months of my work with Dr. Smith with wonder. My journal reflects a journey of self-discovery so vast that I hardly recognize the person who wrote the first entries. It's been a year now and I am happier now than I have ever been.
PJ, Mentoring Client
,
"It's the most amazing experience I have ever had. I needed to find a new path. A friend recommended Dr. Smith. What was most amazing was the wisdom and perception that he brought. New vistas have opened up and, as a result, a new chapter in my life. There's no way that I could put a value on what he has contributed to my life."
Mentoring Client, CEO and Serial Entrepreneur
,
"Chief - that's how Dr.Smith was introduced to me and, based on our work together, I have come to understand why - helped me focus on the possibilities that I had been missing in my life. He guided through developing a new vision for my life. My life is richer because of working with him."
Mentoring Client
,
"Earl is a wise mentor with lots of experience. He has a great way of explaining things and getting you to look at them from another perspective. Dr. Smith is a tough mentor, but, if you can learn just some of what he knows, your life will change forever."
Mentoring Client, Deloitte
,
"Dr. Smith is a very different kind of mentor. If you're looking for a warm and fuzzy adviser, this is the wrong guy for you. But if you are dedicated to change and want to be challenged by a very experienced mentor Earl may be just what you are looking for."
CEO of Croix Connect and Host of ABC Radio's 'Taking Care of Business'
,
"Dr. Smith's mentorship has been of great value and inspiration to my personal and professional development. I felt the need to take a new direction. He helped me sort out the possibilities and showed me ones that I never considered. Working with him has been a truly life-changing experience."
Partner, IT & Telecom, Defense Solutions
,